THANK YOU!
There has been no one more important to the success of Connecting Point Computer Center than you, our business partners. As a small way of thanking our customers we would like to help rid you of a headache.
Connecting Point Computer Center has partnered with a
recycling company which allows us to accept IT equipment from you to recycle
FREE OF CHARGE!
If you have old laptops, PCs, tablets, flat screen monitors, cable boxes, video game consoles, battery backups, or printers we will take them for you.
Unfortunately due to our recycling partner's policies
we are unable to accept CRT monitors, appliances or televisions.
If you have an item not mentioned above do not hesitate to call us to see if we can accept it for recycling.
Just drop off your items at our store in downtown Peru, Monday-Friday from 9 am to 6 pm. or on Saturday 9 am to 1 pm.
This FREE service is brought to you exclusively by Connecting Point Computer Center.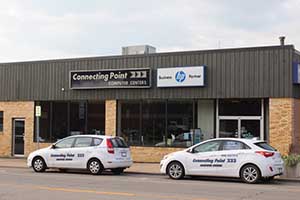 Call us today with any questions you may have.
1-800-352-7018
Connecting Point Computer Center
1622 4th St.
Peru, IL 61354