Our partners are Intel, Microsoft, HP, Untangle & Trust Alliance
We have established partnerships with the top names in the technology industry. Our vendor relationships provide us with the best level of support and ensure that we can offer you integrated, customized multi-vendor solutions that meet your business needs. Connecting Point Computer Center provides an end-to-end business solution tailored and designed to meet your technology needs. We have the proven ability to evolve our offerings to match the major changes that have swept through the information technology industry and we are a company that is customer-driven and committed to your businesses' overall success.
---
Since 1968 Intel Corporation has been the leader in innovating technologies. As a trusted Intel Technology Provider – Platinum Partner, we succeed by enhancing your potential. Through our Platinum Partnership with Intel, we are able to deepen our expertise to build and sell solutions to you, our partners. The ITP training provided by Intel allows Connecting Point employees to stay up to date on the very newest Intel technologies. As an ITP Platinum Partner, we are also assigned a dedicated Intel account manager. This allows us to better leverage the resources available from Intel.
---
Connecting Point Computer Center has met or exceeded the criteria to become an HP Qualified Print Partner. This enables Connecting Point to purchase HP Print hardware and supplies from HP authorized distributors for the purpose of resale to our partners like you. This Program strengthens our commitment to HP's U.S. Partner Channel while allowing us to provide our partners with HP original supplies and hardware.
---
The AEP program is designed to train participating resellers on Microsoft's Academic licensing, authorize them to purchase and resell Microsoft Academic licenses, and demonstrate to potential customers that they are approved and knowledgeable academic partners. Distributors will only accept orders for Microsoft academic products from partners that are AEP's. Connecting Point Computer Center personnel have taken all of the necessary Microsoft training and are Microsoft Authorized Education Partner (AEP) certified.
---
Connecting Point Computer Center is very proud to have achieved HP Inc. PartnerOne Silver status. HP Inc. PartnerOne is a channel partner program that provides resources and benefits for value-added resellers (VARs), system integrators, service providers, hosting providers, independent software vendors (ISVs), distributors and other businesses that want to collaborate with HP Inc. Silver membership requires Specialist Partners to have two sales certifications and one technical certification in Hewlett Packard Enterprise Group, HP Inc. (Printing and Personal Systems), or HP Software products. Partners also need to maintain minimum revenue thresholds in a particular product category to remain a silver partner.
---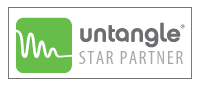 The Untangle Partner Program focuses on providing the expertise and resources you need by delivering technology products and services to small and medium organizations across a wide range of industries. Untangle products consolidate everything you need to secure and manage your network services at the gateway, providing a single place from which to manage and monitor these services. Further, Untangle protects computers from viruses and spyware avoiding hours of support costs to troubleshoot, re-image, and restore data on desktops. Untangle's award-winning software is trusted by over 400,000 customers, protecting nearly 5 million people, their computers and networks.
---
Trust X Alliance includes 350 companies in the US, Canada, UK and Brazil and what does it have to do with your business? Launched in early 1998, as VentureTech Network™ is an exclusive $3 billion national sales and service network consisting of approximately 500 (small to midsize business-focused) certified technology providers. Trust X Alliance members aren't only computer value-added resellers — we are true business allies, providing turnkey solutions to meet the demands of growing companies like yours.
MemberTrust X Alliance ™

Solution Providers are Citrix Solution Advisors, System Integrators and Independent Software Vendors who sell Citrix products as well as their own products and/or services to end users. As a Citrix partner, we can deliver unique solutions for specific application delivery needs.
---
Details