Recent Website Design and Development Projects
Website Design Project - City of Ottawa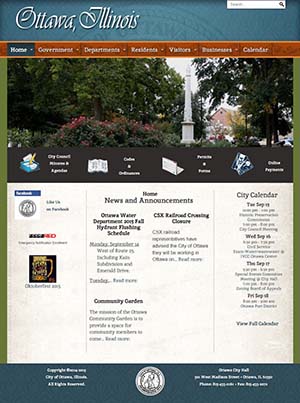 We have recently completed a website project for the City of Ottawa This new site features the Joomla content management system platform. The webpage features a responsive multi device design that works in all device types and is mobile-friendly. It features a comprehensive document library, document search, integrated google calendar, online forms, site search, photo galleries, map integration, blog articles and user friendly navigation.
The entire site has been completely rewritten and all documents are up to date. A photo gallery of all parks with details of amenities can be found under the Visitors section. A newly designed municipal code section is available under the Government section.
City council minutes, agendas and videos are easily found in a user friendly format. Department staff, programs and contact information are easily found under the Departments section.
See what's going on with the Calendar of Events section with a summary of upcoming events right from the home page.
Reserve shelters for parks online, fill out permit applications online and make secure water and sewer bill payments online.
http://www.cityofottawa.org/historic
In addition to the main site, the Historic Preservation section was also redesigned. This features a photo gallery of the beautiful East Side and local landmarks as well as descriptions of the local landmarks.
Contact Sue Grady at 815-223-1052 to schedule a consultation to discuss your business needs.
We specialize in content management system websites, search engine optimization, social networking integration and website marketing services to get your business on top of the search engine rankings.
Details