Recent Website Design and Development Projects
Website Re-Design Project - Assembly of Yah
We have recently re-designed the Assembly of Yah, an Illinois website with a mobile friendly, responsive design.
This new design features an easy to use navigation strucutre, quick links to booklets and information, video sermons and messages, photo galleries from several Feast of Tabernacles, rss feeds of syndicated content and a donation page.
Along with great framework and design, all our websites are designed with the highest standards and technologies.
Upon going live we test and grade our websites to ensure they are mobile friendly and pass stringent standards in today's internet requirements.
You can check your own website's grade here: http://website.grader.com. If you want to improve your site, give us a call today. We can help you achieve interent greatness.
Let us help you get your business website up to date. We offer competitive plans and solid platform choices that will give your business the professional visibility you're looking for. Contact us today at 815-223-1052 for more information on how we can get you online!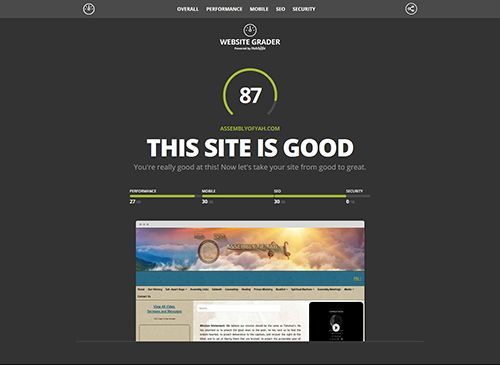 Details