Tom Hancock, Vice-President & Sales Manager with Corporate Consultants Nathan Blauvelt & John Riva
Our Corporate Consultants understand product benefits and their advantages which allows them to find the best solutions for their clients. They are your personal liaison to the computer industry.
Technology is ever-changing. By continually learning about the newest technologies our consultants can offer your business a "state of the art" IT solution for today and tomorrow.
Our Consultants work from start to finish with our support/service engineers to ensure we achieve and exceed our customer's expectations.
Community-minded, our consultants have been and continue to be involved. Whether volunteering on a local board or helping out at a school function they care what happens in our community because they live there.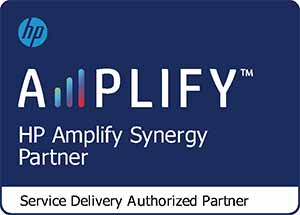 Connecting Point Computer Center is proud to be an HP Amplify Synergy Partner. HP's Amplify program allows CPCC to not only offer warranty service to our customers through the Service Delivery Partner program but be able to stay on top of the latest HP programs to benefit our clients. A strong partnership with HP over the past 2 decades has given us the connections to ensure we can offer our customers the best products and solutions.