Connecting Point offers a solution for organizations that need staff augmentation for certain business operations.
We provide the following processes:
Inventory management
Membership services
Digital Marketing
Pick, Pack and Ship
Voting and Ballot services
We currently offer all of these services to the Lionel Collectors Club of America detailed below:
Connecting Point Computer Center is the business office for whom?
Sometime in 1974 a LCCA (Lionel Collectors Club of America) member by the name of Jim Hunt stopped at our office, R/D Computer Sales and Services, LTD. in LaSalle IL and asked if we could print labels. He had about 400 names that needed to be printed on pressure sensitive labels for a mailing he was doing for a relatively new model train collectors club. This is how our partnership with LCCA began.
Many things have changed for both R/D Computers and LCCA over the last 50+ years. We moved to our current location in downtown Peru and changed our store name to Connecting Point Computer Center. LCCA has gone from 83 charter members in 1971 to 8,685 members worldwide.
Our staff takes great pride in making sure everything we do is for the benefit of the club. From finding cost savings by negotiating with FedEx for better shipping rates to helping spread the word about upcoming events by sending out email "Blasts" to the membership, LCCA's business office staff and LCCA officers are able to make things happen.
The LCCA Business Office Staff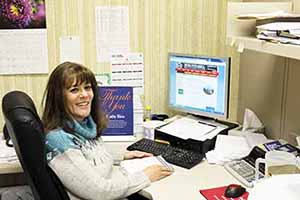 Many LCCA members have met or spoken with Cathy Rios over the years. Cathy has been the main liaison between LCCA and Connecting Point for over 30 years. She is responsible for many of the club's core processes including membership, order processing, voting, show registrations, pick/pack/ship inventory and much more. She has also attended countless LCCA conventions to help make sure everything runs smoothly from the business office's perspective and members are correctly registered to enjoy the convention.
Peggy Marini works with LCCA's financials to make sure the bank information is balanced and correct. She works with LCCA's Treasurer to make sure all documentation and banking processes are being efficiently handled and adhere to Generally Accepted Accounting Practices (GAAP).


Sue Grady assists with marketing and web support. Designing and sending out LCCA email "Blasts" and making sure the membership is receiving information about upcoming events is just one function performed. Sue also updates LCCA's special events and calendar to keep information online relevant.
Listed are just a few tasks each of the LCCA business office staff performs on a daily/weekly basis to make sure the club runs as smooth as possible.
LCCA is the Best Toy Train Club on the Planet and a big part of our culture here at Connecting Point Computer Center. If you would like more information on becoming a member of LCCA please call us at 815-223-0115 or by email at .