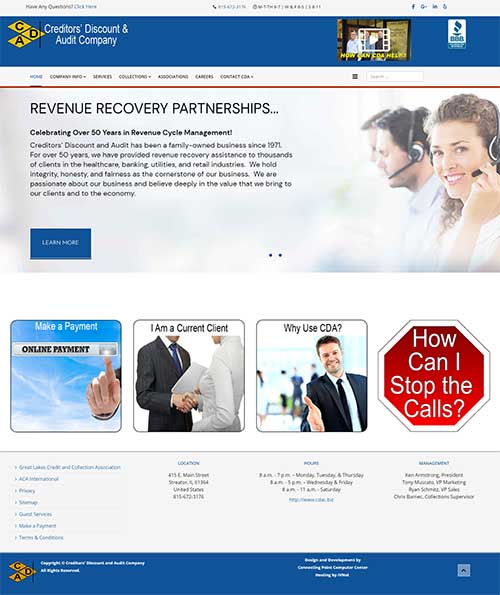 We recently completed a responsive website redesign project for Creditors' Discount & Audit
This new design provides a large home page slider of images with important calls to action to three critical pages on the site. Also, new service forms, Google Reviews and a new video of How Can CDA Help? The site features a mobile-friendly responsive design that displays well on any device.
CDAC is an accredited business with the Better Business Bureau.
We also provided the site with a comprehensive website maintenance program to keep the site extensions, plugins, and modules up to date. This service also includes nightly backup, uptime monitor, and Google Analytics integration within the monthly report of the services.
Featured Services from CDAC include:
3rd Party Collections
Early-out Programs
Collections Litigation
Extended Business Office
Payment Monitoring
If your business needs revenue recovery with ethical standards compliance, Creditors' Discount and Audit is a company you need to contact. They are in Streator, Illinois, and can be reached at 815-672-3176.
Please call Connecting Point Computer Center at 815-223-1052 if your business is ready for a fresh new design with the most up-to-date features.