Recent Website Design and Development Projects
We have recently completed another website project for Illini State Bank This newly redesigned site features the Joomla content management system platform. The webpage features a responsive mobile-friendly design, online banking, contact form and is Section 508/ADA/WCAG compliant for level AA.
Visit Illini State Bank in Tonica, Oglesby or Lostant for all your banking needs.
http://www.illinistatebank.com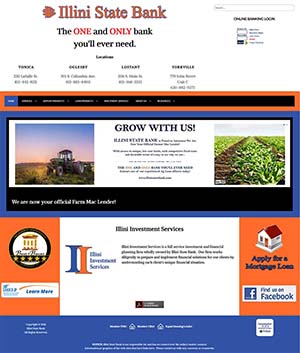 Contact Sue Grady at 815-223-1052 to schedule a consultation to discuss your business needs.
We specialize in content management system websites, search engine optimization, social networking integration and website marketing services to get your business on top of the search engine rankings.
Details