Recent Website Design and Development Projects
Check out our latest website design and development projects. We'd love to help you too! If you have questions on website development, hosting and design, give us a call. We offer a no-cost initial consultation to help you get up to speed with all the topics that people ask about the most.
Details

Written by:

CPCC & IVNet

Parent Category: Website Services
Category: Website Design Projects
Hits: 573
Hall Township's Echo Bluff Park
We recently completed a website redesign project for Echo Bluff Park in Hall Township.
This website redesign project showcases their yearly events with an online event booking and registration feature.
these features allow the park managers, visitors, and staff to maintain an active online tally of all events, who is registered, and paid, and a check-in feature at the event.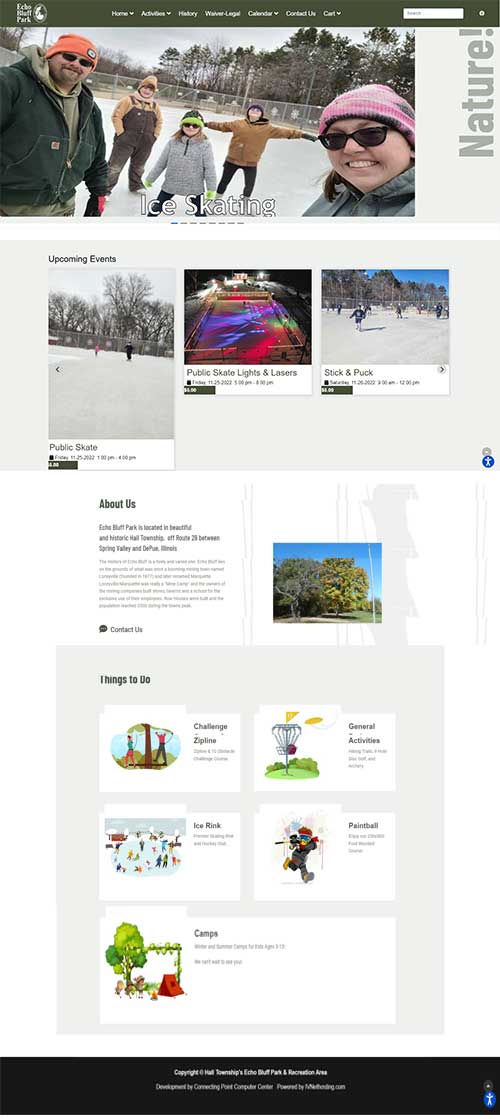 Services provided included in this project:
Nature design
User-friendly navigation with drop-down menus.
Calls to action buttons that drive visitors to important pages from the home page.
Stunning photos showcasing the park
Event registration, payment, management and check-in.
Beautiful and seamless responsive design that reads well on any device and size.
We invite you to contact us about our Website Design and Development Services, and Website Maintenance Packages for your website to provide you peace of mind that your website is secure with the latest updates.
Check out the website and see all the great year-round activities that Echo Bluff has to offer!