Recent Website Design and Development Projects
Website Re-Design Project - Industrial Semiconductor, Inc.
Industrial Semiconductor, Inc.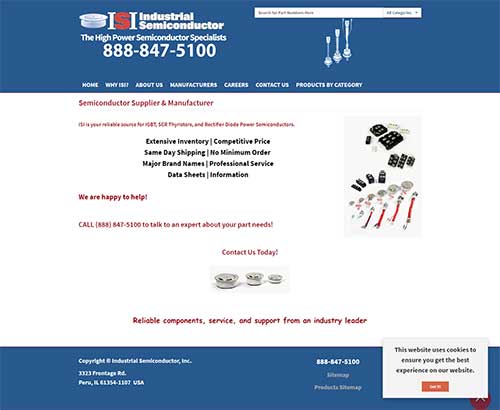 Industrial Seminconductor, Inc., is an established local Peru, Illinois business. They had a website with a custom inventory directory and wanted to add more data and fields to the product listings, have to ability to optimize the content and add images to the products where applicable.
We suggested they utilize an established e-commerce program that would allow for future growth, but only utilizing it as a directory listing for now. In the future if/when the client wants to offer the products for sale online, it will be possible to implement that functionality without starting over from scratch.
convert product listing to e-commerce directory
responsive, mobile-friendly web design
import products through the admin interface
updated framework and theme
Joomla content management system
Virtuemart e-commerce platform
The business also has a custom inventory control database program so the data would need to be imported into this e-commerce program. We worked with their products database developer on export formats to be imported into the new website version.
One of the challenges with large data projects like this the data is so massive that the product details are often overlooked. We did have to overcome some data issues during the initial field mapping process as well as determining non-category products and how to segregate those products.
Ultimately after many rounds of testing, changing and adding fields, the import tests we were successful in a final output of the current data.
With this import process, the client is also able to see logging of the data, error and import reports that never existed with the previous custom data imports.
Now the client has a better online product output with search capability, product categories, a more search engine friendly and responsive layout as well as inventory sitemap of their products.
Other services included setting up security features, Google search console and analytics, products and page sitemaps.
We look forward to the next round of services proposed to include SEO, Social media integration and automation.
Details